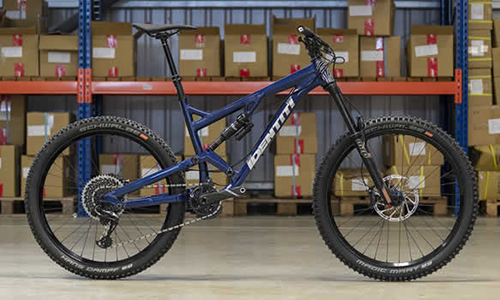 Identiti for 2020 has you covered for your mountain bike needs with a freshly revised Mettle V2, new colour options on the hardcore AKA along with the Jekyll.
The Mettle V2 now has a slacker head tube angle, steeper seat tube angle and longer reach on all sizes. As a combined package all three geometry changes mean that our sat down sizing (effective top tube length) remains almost identical to the previous generation Mettle, yet your mass is more central and balanced between the wheels. But the stood up, foot out, berm slapping sizing – the kind of riding you'd buy this bike for – is more confident and ready to get loose when you are, simple. Along with this the new specs offer options of the R, RC and RCX builds including the new Shimano XT M8100 on the RC spec utilising our collaboration with Halo Wheels to allow the use of Shimano's Microspline technology.
The AKA not only available in an additional two colours Dark Alley Black and Summer Sky Blue to add to our current Red and Blue offerings, but they have, like the Mettle also had a build spec switch up with the R, RC and RCX options. Again with these models we're able to offer Shimano 12spd groupsets with out collaboration hub with Halo Wheels, the RC and RCX come specced with Shimano SLX and XT respectively.
Last up the Jekyll, our dirt jump/ skatepark bike, as we know you guys like keeping your ride looking fresh we've added two more colour options for you, Electric Beige and Twisted Lime.
To check out the range head to your local dealer here.