Buy Online
Buy in Store

BMX | MTB | Jump
Some companies are synonymous with products and Identiti is one that has been known to be part of the core dirt jump and hardcore MTB scene for over two decades. Forks are an important part of these ever-changing styles and Identiti has delivered award-winning, revered products every step of the way.
If you are looking for a Fixie/ street 700c Disc or calliper fork look at the FFX range, made taking design elements from BMX forks this range will be perfect on a hardcore fixie or as a replacement to your daily commute bike.
What we are known for are the Rebate Dirt Jump range. We offer a choice of axle to crown and axle options meaning you will find the perfect fork for your Dirt/ Street/ Pump bike, and keeping the BMX style not only do they look good they perform outstandingly.
We also offer the XTC range, ideal for the XC/ Trail hardtail, this range offers the option of tapered steerer and bolt-through axles and makes a great replacement for a suspension fork on a 27.5" or 29" hardtail.
All Identiti Forks come in a Black finish and the steerer tube is more than long enough for most bikes.
Technical Information
Forks
A. A-C stands for Axle to Crown. This is the distance between the centre of the wheel axle when fitted and the base of crown race seat located at the bottom of the fork's steerer tube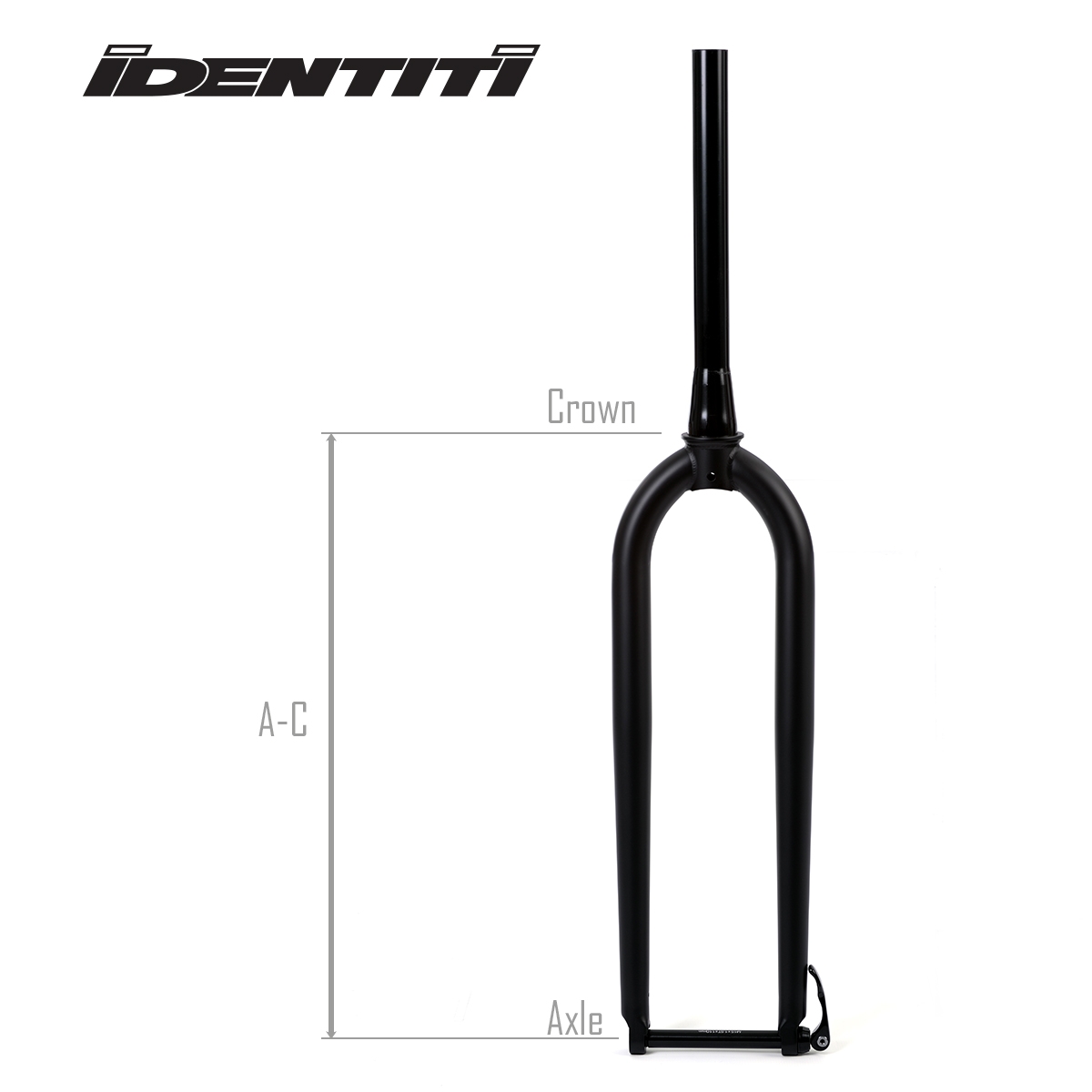 A. Our forks steerer tubes are uncut from manufacture meaning there will be ample length of around 300mm. This is more than enough to fit  most headtube sets ups
A. Each of our forks have different tyre clearance and this information can be found on the individual forks specification
A. Boost is an axle size that is 110mm width , can be written as 15 x 110mm boost axle not to be mistaken with 15 x 100mm , this is an older standard and will not be compatible with a boost hub due to the brake rotor placement
A. If replacing the fork on your bike the first port of call is to reference the maker with the specification of the axle size. Alternatively your hub may have the size on it, this could be : QR, 12mm , 15mm or 20mm bolt through. 110 or 110mm boost spaced