We've added more choice to our line up! #WHATSYOURIDENTITI
AKA
Join us with our best ever trail hardtail. Whilst the frames remains unchanged, we've added two additional colours, a gorgeous metallic black with silver decals affectionately named Dark Alley black, and a new bright pastel shade called Summer Sky Blue.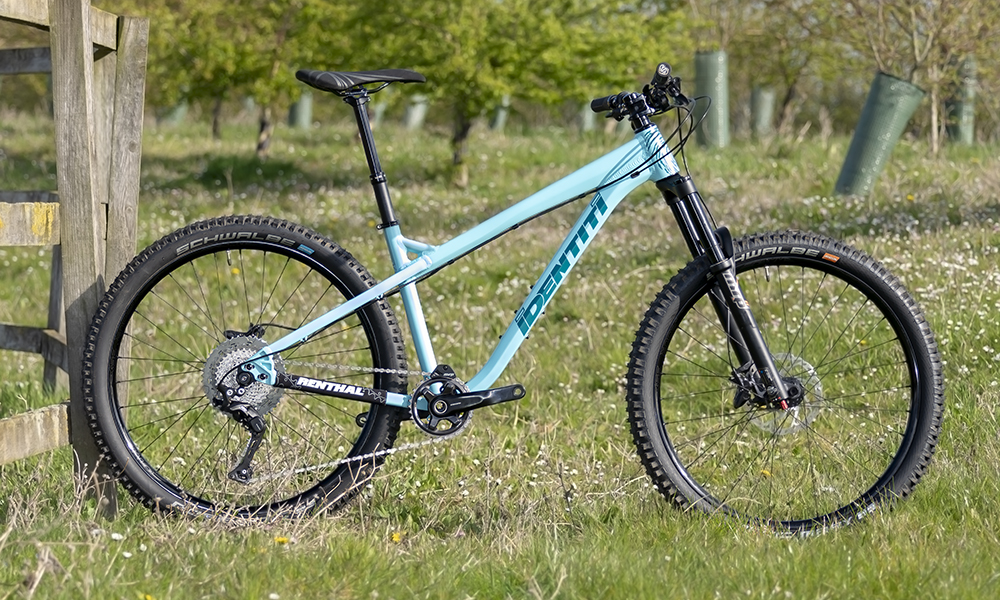 Hardcore hardtails run deep and rich our history and the AKA is nothing short of hardcore.
The new AKA is a descendant of our original Mr Hyde from the early 2000's. One of the first hardcore hardtails designed to cover miles, rattle downhill runs and race dual slalom tracks – it'd take anything you could throw at it and come out laughing. This is our unfiltered vision of a bike that will tear your face off and rip singletrack to pieces. It holds no prisoners with progressive geometry designed around sag and handling derived from our Mettle enduro bike. We run three sizes with geometry designed at sag for ideal on-trail geometry.
You can build the same frame with either 27.5'' wheels (140mm forks) or 29'' wheels (120mm forks) made achievable with our Adjustable Dropout System - or ADS for short - also seen on the new Dr Jekyll. In 148mm spacing, you can run it geared or singlespeed and fit a 2.6'' tyre with 27.5 and 2.35'' tyre with 29's. Making it a really versatile package!
Three complete bike options:
R - £1,699.99 (£1,799 for 29)
RC - £2,199.99
RCX - £2,499.99
Dr Jeckyll
Along with the two additional colour AKA's, we've added 2 more colours to the Dr Jekyll family, Twisted Lime, and a new grey with brown hues colour called Electric Beige.
We created our first Dr Jekyll dirt jump bike in 1998 and things have come a long 'ol way since then. Back then we ran 24'' wheels and massively overbuilt parts to cope with poor riding style and heavy landings. Oh how things have changed. We drew from what we learnt after decades of riding dirt jump bikes through the original Dr Jekyll, P45, P60 and to the most recent P66 frame - with a sprinkle of our Krisis SL (our previous 4x bike) – and created the new Dr Jekyll.
Featuring an all new aluminium frame, our newest iteration Adjustable Drop Out System or ADS for short, you can run it geared or singlespeed, with a simple hidden tensioner. As an added benefit, the brake caliper is mounted to the drop out inner plate meaning the the pads are always hitting the right point of the rotor, regardless of how much you move the wheel. 26'' wheels come as standard, as does geometry made for the trails or pumptrack with fun on tap.
Three complete bike options:
R - £1,299.99
RC - £1,899.99
RCX - £2,099.99
Additional colour frames are available to preorder immediately. Bikes will be available to order upon delivery in early May.